For Men Only
Menís Breakfast: The aim of the menís breakfast is to provide an opportunity for men in the church to meet one another in fellowship and service. The purpose of the Menís Breakfast is to be a viable entity within the church as a strong support group both in financial and spiritual needs as worship. We meet the first Saturday of each month at 8:30 am at the church. They have given leadership and support for dinners at the church as fundraisers. Contact Lyle Sylvester 519-753-4939.

For Women Only
Sydenham Street United Church Women (UCW) units all women of the congregation for the total mission of the church and to provide a medium through which they may express their loyalty and devotion to Jesus Christ in Christian witness, study, fellowship and service. The UCW meets the first Wednesday of the month at 7:30 pm. A business meeting is conducted followed by a worship service, then a speaker or cards or special event, closing with a social time with refreshments. All women of the church are welcome. Contact Cindy Aniol at 519-751-3968

Sydenham Sluggers
Join Sydenhamís own softball team as they meet other church teams. We practice once a week in the spring and play in Brantford, Mt. Pleasant, and Scotland . Call Terry Matheson at 519-752-3702.

Friendship Club
The Friendship Club traditionally meets the second Friday of the month, After a brief business meeting, the members enjoy coming together in fellowship. Past Friendship Club activities have included a pancake supper, theatre outings, guest speakers and presentations, a cruise down the Grand River, a corn roast and a potluck. Contact Carol Stinson at 752-7123.
Just for Fun
Mixed Games
All are welcome Mondays from 1:30 to 3:00 to play a variety of games, followed by tea, coffee and cookies. Contact: Gordon Welsh at 519-753-9259

Sew and Sews
This group of Quilters meet every Tuesday from 9:30 to 2:30 in a relaxed atmosphere. We create and also complete quilts. Proceeds from our quilts are donated to the church.
The Young Adult Group
The creation of the Young Adult Group (YAG) was initiated by Yvette Swan, the student intern, and the Group met for the first time early January 2009. Since its conception, the Group has grown to include young adults from all walks of life and different faiths. The Group meets every other Wednesday, engaging in activities ranging from mini-putting and bowling to movie nights. The goal of the YAG is to foster a local social network full of fun, laughter and good conversations. We look forward to receiving new members and taking the gatherings outside with the coming good weather. For more information, please contact Rita Pallottini at (519) 756-2301 or rpallottini@hotmail.com or Lyne Halle at (519) 754-1384 or lynehalle@hotmail.com.
Brownies
For fun and adventure! Girls ages 7 and 8 meet Wednesdays from 6:30 to 8:00. Brownies is based on the premise that girls learn best by doing. It gives girls the opportunity to do things, be active, have fun and practice the concepts of friendship, co-operation and helping others. Contact Helen DeBruyn at 519-309-0140.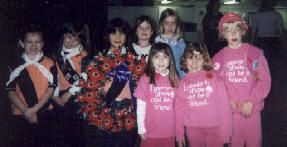 Beavers
Sharing the Adventure! For boys and girls ages 5-7. Beavers take part in an adventurous program of outdoor activities, creative play, music, and cooperative games, Beavers enjoy time with their friends (and meet new ones), learn how to get along within a group, and develop the confidence to be themselves. Beavers meet Thursdays at 6:30. Contact Barbe Layne at 519-752-6943

Cubs
For boys and girls ages 8-10, Cubs meet Thursdays at 6:30 pm. With the Cub motto of "Do Your Best" front and centre, Cubs are encouraged to try new and more challenging activities. Learning important first aid skills, paddling a canoe for the first time, or leading a game at camp will open the door for Cubs to try other adventures they never thought possible. Cubs also experience an exciting variety of other activities: games and sports, model-building, music, story-telling and play-acting.
Contact Gerry Boire at 519-752-6943.

Guides
For fun and challenge! Girls ages 9 to 12 meet Wednesdays from 6:30 to 8:00, Guides are challenged to explore their individual interests and develop further understanding of their community, the outdoor environment, their personal horizons and their futures. Contact Pam Cleaves at 519-484-2706.
PROGRAM GROUPS
DIRECTORY
Minister: Rev. Dr. Barry Pridham
Telephone 753-1248 (Church); Residence 751-1759
At the Church Each Week Day Morning, except Mondays
Church Office - Telephone 753-1248
Regular Office Hours 9 a.m. - 1 p.m. Monday through Friday
Website: http://sydenhamstreetunitedchurch.com
Email: secretary@sydenhamstreetunitedchurch.com

| | | |
| --- | --- | --- |
| SUNDAY SCHOOL | Each Sunday Morning with 10:30a.m. Worship Service | Jackie Childerhose 753-8258 |
| MIXED GAMES | Mondays 1:30p.m. | Helen Eddy 753-0158 |
| YOUTH/ADULT DRAMA GROUP | Mondays 6:15p.m. | Terry Matheson 752-5950 |
| QUILTERS | Tuesdays 9:30a.m | Pat Woodney 759-5068 |
| U.C.W. | First Wednesday of Month 7:30p.m. | Cindy Aniol 519-751-3968 |
| BROWNIES | Wednesdays 6:30p.m. (Girls 7 & 8 yrs old) | Helen Lawrie 309-0140 |
| GUIDES | Wednesdays 6:30p.m. (Girls 9-12 yrs old) | Pam Cleaves 484-2700 |
| BEAVERS | Thursdays 6:30p.m. (Youth 5 - 7 yrs old) | Lori Hastings-Barber 758-2753 |
| CUBS | Thursdays 6:30p.m. (Youth 8 - 10 yrs old) | Dan Cole 754-1384 |
| SENIOR CHOIR | Thursdays 7:00p.m. | Tom Wilson 753-9767 |
| JUNIOR CHOIR | Sunday mornings 10:00a.m. | Cynthia Advincula 753-3062 |
| FRIENDSHIP CLUB | Second Friday of March, June, September, December 7:30p.m. | Mary Birkett 753-5657 |
| JR. YOUTH GROUP | Third Saturday of Month 7:00p.m. (8 - 13 yrs old) | Cynthia Advincula 753-3062 |
| MENíS BREAKFAST | First Saturday of Month 8:30a.m | Harold Wall 446-3598 |
| SUNDAY SUPPER CLUB | Every Sunday from November to April 4:00p.m | Vanessa Warner 753-0554 |