HOW TO BECOME A MEMBER OF SYDENHAM STREET UNITED CHURCH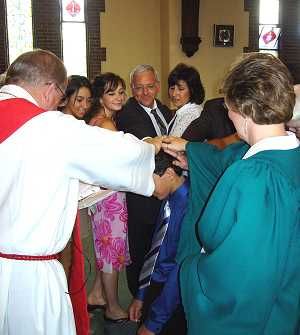 Introduction: The first step and expectation for anyone becoming a part of the body of Christ, the church, is to be able to confess faith in Jesus Christ as Lord and Saviour and through their living and loving by Godís grace, by living out that faith.

That faith is expressed publicly in part by:
Baptism: Either as a child being brought into the faith community by adoption until such time as they can express their faith on their own behalf or as an adult (Believers baptism) who has already come to confess Jesus as their Lord.

When: At Sydenham we celebrate Baptism at least four times a year. Both children and adults may be baptized in our tradition. A Baptismal training event is held the Tuesday evening prior to each baptism. Those who are baptized are open to all the privileges of membership.

Confirmation/Re-Affirmation of Baptism Vows: From early teens upward those who have been baptized or desire to be baptized at that point, after a series of confirmation/membership classes (usually 6 as in the case of our present Thursday night Lenten membership classes) may choose to be confirmed as full members of the church, open to all the privileges as well as
responsibility of membership.

When: Usually Easter & Pentecost Sunday.

Re-Affirmation of Faith: Those who once were a member of this congregation or any other, including those of another denomination but who for whatever reason let their active membership lapse, may join Sydenham United by re-affirming their faith during a worship service, and promising to be a faithful member of this congregation.

When: From time to time, usually a Communion Sunday.

Transfer of Membership: Those who have been active members of another congregation (usually within the last 3 years) may transfer their membership to Sydenham, again they can be from most denominations. Either our secretary or yourself can make the request to have your membership transferred here. We like to have a letter stating you have been a member of that congregation, prior to our welcoming you offically to Sydenham during a worship service.

When: From time to time, usually a Communion Sunday.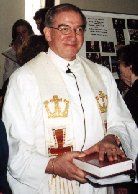 BAPTISM & MEMBERSHIP CERTIFICATES ARE GIVEN to each person involved.

Our certificate recognizes you as baptized into and a member of the Holy catholic or Christian Church, but at Sydenham Street United Church.

WHOM DO I APPROACH TO MAKE MY WISHES KNOWN?
Speak to an elder, Rev. Pridham, Rev. Con or Rev. Wayne if you have questions or wish to take the next step in expressing your faith. Without Baptism, Confirmation and full membership you are considered an adherent of Sydenham United, or a friend, or visitor among us and thatís fine but we are called to respond to Christís injunction ďBaptize them in the name of the Father, Son and Holy Spirit and make them my disciples.Ē We therefore invite you to consider becoming a full, active member of this exciting, dynamic, caring faith community.