Worship
10:30 a.m. for Worship, Sunday School
10:00 a.m. for summer services.

Sunday School
Our Sunday School meets each Sunday during service. We participate during service, then proceed to our classes, where we continue to journey in faith in our own unique and eager fashion. The Sunday School supports world outreach through our Lenten coin collection, supports a family at Christmas, participates in White Gift Sunday, conducts a Youth Service in June, and presents a meaningful and jolly Christmas pageant. For information on any of our Sunday School programs, or if you are interested in volunteering your time, contact Jackie Childerhose at 753-8258.

Bible Study
All are invited to attend Bible Study before regular service on Sunday, or Monday evenings at 7:30. For information, contact the office at 753-1248.

Services
Regular worship services begin at 10:30 Sunday morning. Worship is filled with song, prayer and
fellowship. Less traditional services include Blessing of the Pets, Youth Sunday, Guide / Scout Sunday, UCW Sunday, among others. There is always a space for you during our service. For information on becoming a member, baptism, marriages or funerals, please contact the office at 753-1248.

Ministry of Music
Junior Choir
The Junior Choir meets every second Monday of the month from 5:45 to 6:30 pm in the Fellowship Room, then sings during the regular worship service on the third Sunday of the month. Contact Cynthia Advincula at 753-3062.

Senior Choir
The Senior Choir shares their ministry during each service through music and song. They perform at special events, such as Christmas, Easter, Church Anniversaries and Thanksgiving. Duets, Solos, and Trios add special flavour to our services. The Senior Choir rehearses Thursday evenings at 7:00 pm, then briefly before service on Sunday. Contact Ruth Pickard at 759-3661.

Menís Choir
The Menís Choir performs at church services,
funerals and by request. Conducted by Mel Plant, and accompanied by Marj Kern, all Sydenham men who wish to sing are invited. Contact Mel Plant at 759-0860

Commissions
Outreach
The Outreach Commission serves the Sydenham congregation by making them aware of local and global needs and issues as they arise, and by developing appropriate strategies and courses of action to raise funds; and to promote programs that will address social concerns. On the lighter side, our mandate also includes our liaising with other agencies and groups to organize and/or participate in fun events for ourcongregation, the Tri-church congregations, and other ecumenical programs and events in our community. Contact Joanne Lloyd at 752-0180



Property
The Property Commissioner main responsibility is the maintenance of the church and property. The Property Commission has a committee, known as the Fix It Club, which attempts to do all the necessary repairs that is within their ability to do. Contact Don Wood at 754-4262.

Worship
The Worship Commission develops ideas for the various facets of worship services at Sydenham. Our aim is to provide meaningful, spiritual leadership and services for the Sydenham family.

Christian Development
This Commission provides guidance for Christian Education programmes. Our members represent thediverse groups and committees that make Sydenham their home.

Finance
The Finance Commission meets once a month to discuss the financial situation of the church, salaries and special projects. We meet in November to set the budget. Contact Dave Shiels or Larry Pickard.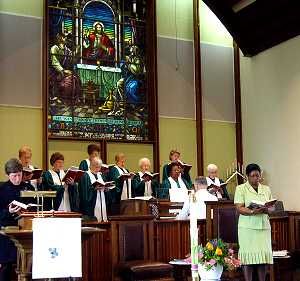 Children & Youth
Youth Drama
For ages 8 to 18, we meet Mondays 6:30-8:00. We produce 2 musical productions and need youth who like to act, sing, dance or have fun! We also welcome people to help us with costumes and set design. No experience required. Contact: Terry Matheson at 752-3702
Brownies
For fun and adventure! Girls ages 7 and 8 meet
Wednesdays from 6:30 to 8:00. Brownies is based on the premise that girls learn best by doing. It gives girls the opportunity to do things, be active, have fun and practice the concepts of friendship, co-operation and helping others. Contact Helen DeBruyn at 757-0614.

Guides
For fun and challenge! Girls ages 9 to 12 meet Wednesdays from 6:30 to 8:00, Guides are challenged to explore their individual interests and develop further understanding of their community, the outdoor environment, their personal horizons and their futures. Contact Pam Cleaves at 757-1145.
Beavers
Sharing the Adventure! For boys and girls ages 5-7. Beavers take part in an adventurous program of outdoor activities, creative play, music, and cooperative games, Beavers enjoy time with their friends (and meet new ones), learn how to get along within a group, and develop the confidence to be themselves. Beavers meet Thursdays at 6:30. Contact Barbe Layne at 752-6943

Cubs
For boys and girls ages 8-10, Cubs meet Thursdays at 6:30 pm. With the Cub motto of "Do Your Best" front and centre, Cubs are encouraged to try new and more challenging activities. Learning important first aid skills, paddling a canoe for the first time, or leading a game at camp will open the door for Cubs to try other adventures they never thought possible. Cubs also experience an exciting variety of other activities: games and sports, model-building, music, story-telling and play-acting.
Contact Gerry Boire at 752-6943.

Junior Youth Group
For ages 8-13, we meet the third Saturday of each month from 7:00 to 9:00 pm. We strive to have fun activities through games, sports and theme nights that remain grounded in our Christian faith and help foster friendship, co-operation and community.
Vacation Bible School
Grades 1 to 5 are invited to take part in a week long program during the summer that includes crafts, games, songs and worship. Watch for details!
Pastoral Care
The responsibilities of the Pastoral Care Commission are to show our Christian Concern and supportive care for those who are lonely or sick or have special needs in our church family by: making hospital visits, making home visits to shut ins, visiting nursing homes, sending out birthday, sympathy and anniversary cards on special occasions, taking flowers to members on special days and anniversaries, and supervising the distribution of financial assistance for those in temporary need. We also supervise the registry of the church membership and baptisms. Contact Nancy Edmondson at 753-1550.